with the 7 Weeks to Work Positive
Coaching Program
Get Greater Team Productivity
when you click here for the Work Positive
Master Coaching Program
Get Out of the Office Earlier
to do what you love with those you love
in this #1 best-seller.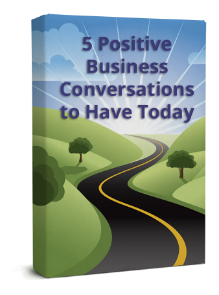 Get the Free Positive Coaching Program 5 Positive Business Conversations to Have Today
Work Positive TV
Has your to-do list grown overnight? Yes, it's "the most wonderful time of the year"…and yet many of us miss the wonder of it all due to the overwhelm at work that accompanies the [...]
Our team ran up a steep learning curve in developing a new product line and the means to administer it. We experienced a great deal of change and discovered as we ran this race that [...]
Announcements of office parties are met with either go-for-it's or groans. The go-for-it's are the ones who enjoyed last year's party or just look forward to any social experience. The groans are the persons who [...]
Work Positive In A Negative World
Find success in the silver lining of business!
Step away from the negative shadows and discover a positive reality, wide open with new solutions and opportunities. Unleash your power to increase sales with greater team productivity so you get out of the office earlier to do what you love with those you love with this #1 best-seller in paperback, Kindle, or audiobook from Amazon.